El archivo de extensiones PGK es un archivo común de Windows, que es responsable de cargar y procesar los ajustes de aplicaciones y funciones de Windows.
 
Error que mostrará Xboot cuando nuestro sistema operativo no encuentra las extensiones PGK:
Fatal Error Occurred in Application. Please send developers the file "error.log". Could not load file or assembly 'PGK.Extensions, version=1.0.0.0, Cuture=neutral, PublicKeyToken=f98e897f802ddcb7′ or one of its dependencies. The system cannot find the file specified. El sistema no puede encontrar el archivo especificado.
Captura de imagen del error que muestra Xboot: Fatal Error Occurred in Application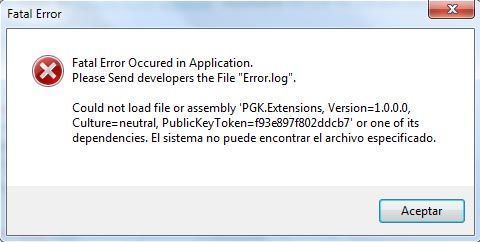 SOLUCIÓN AL ERROR Fatal Error Occurred in Application Could not load file or assembly 'PGK.Extensions'
–> Hemos de incluir en nuestro sistema Windows, las extensiones PGK.
 

Descargar extensiones PGK
Las descargamos desde el sitio web mencionado anteriormente, y las añadiremos al directorio:
c:\windows\assembly
(podemos hacerlo arrastrando con el ratón de una ventana del explorador a otra)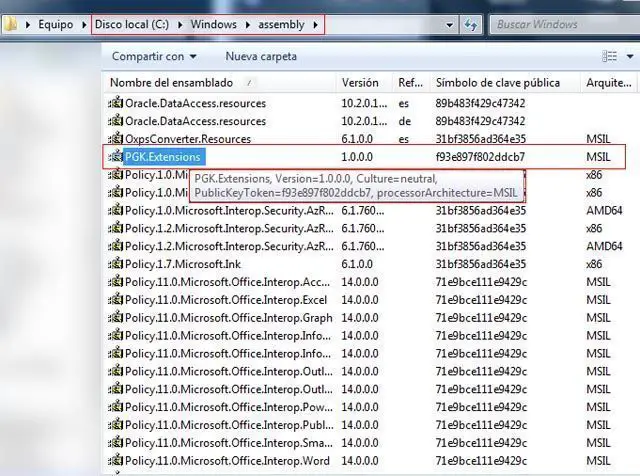 Y ya hemos solucionado el error:
 
Fatal Error Occurred in Application. Could not load file or assembly 'PGK.Extensions'
 
Fuentes y más info acerca del error Fatal Error Occurred in Application :